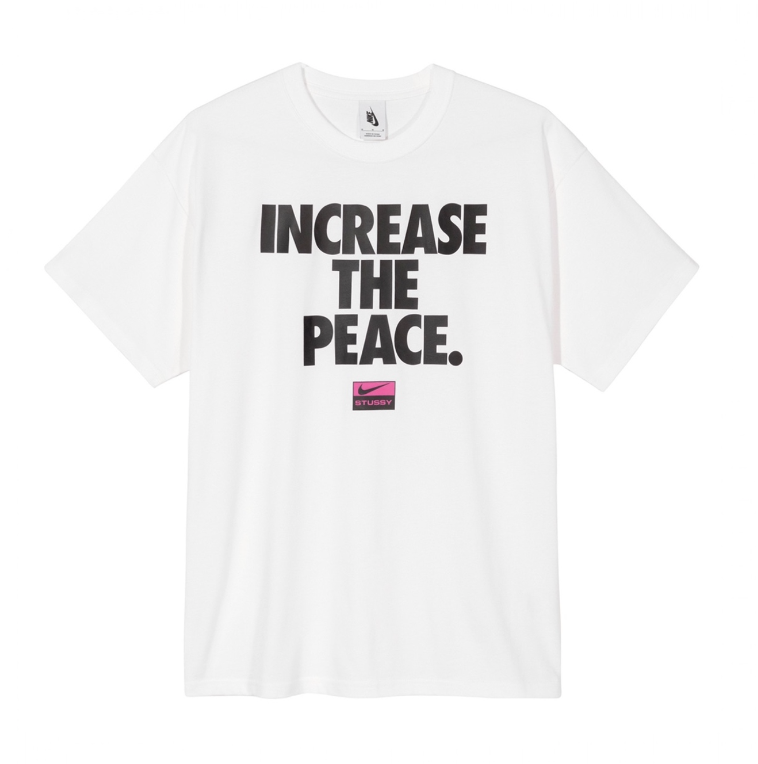 There have been many historic signifiers of peace; the dove and the olive branch officially replaced in 1958 by the image now in our collective visual consciousness. Gerald Holtom, artist, designed what would become the international peace symbol. His design looked to the semaphore, maritime communication, system for the signifiers of the letters 'n' and 'd'. It was designed as a logo for the British faction of the Campaign for Nuclear Disarmament and became synonymous with global movements calling for anti-war activism and free love, painted across Volkswagen Kombis and worn on long chains around necks.
The symbol spread as it was not trademarked or copyrighted and has therefore had a long, convoluted history of commodification and has been co-opted to suit a multitude of agendas.
There was an exhibition in 2017 at SCHIRN Kunsthalle, Frankfurt, the core curatorial concept was 'submissions for a new peace logo'. The design of a new logo was suggested to pursue the idea of how peace actually functions in the 21st century. I am interested in this call for the reinvention of such a visual signifier, as we can understand what the peace logo has come to represent and how warped and used/ misused/ appropriated and capitalised it has become.
Where do we now place the peace logo, something that has become so remarkably meaningful and simultaneously meaningless, is it time to replace it?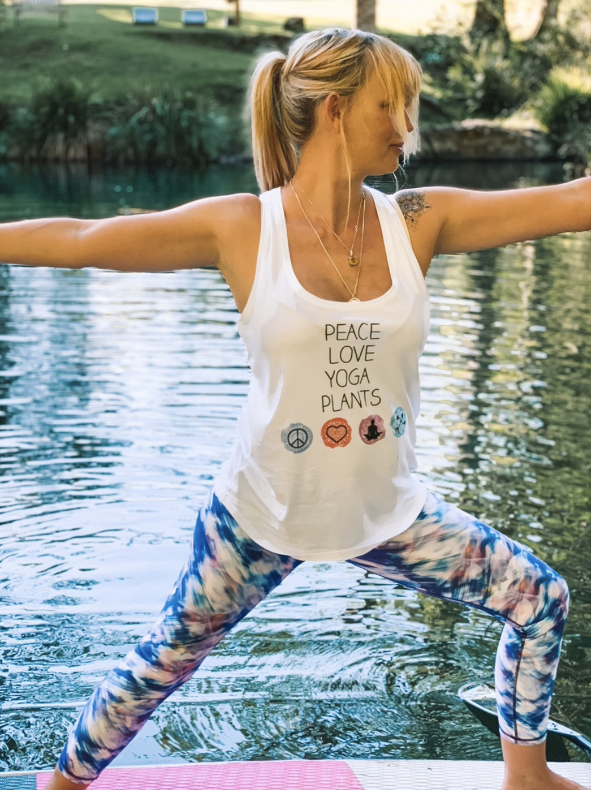 'Peace, Love, Yoga, Plants' printed on an organic cotton tank with eco inks, available at bodhiglow.com for $45.
Here, we could consider the pressure to find, or arrive at, "inner peace" as a marketable concept. A commodifiable idea which supports the mass expenditure on an ever-developing self-help and wellness industry. Think Gwenyth Paltrow's Goop, white yoga culture, appropriation of First Nations and BIPOC spirituality. Another example, an eco-warrior, white skin with long dreadlocks, affronted by the person next to them consuming meat while boarding a plane to continue their voluntourism work in Africa.
Peace is sold and spouted as a utopian prophecy under pharmacopornographic capitalism. Declutter your home, buy a peace lily or an essential oil diffuser, do a 30-day juice cleanse, if this doesn't work try Lexapro or Prozac, spend your wage striving to attain an untenable idea. It seems that a great obstacle between us and peace is that we have no vocabulary, moral or visual imagination that is adequate for considering what it could look like. Peace is uncertain to us. Peace is frequently understood as an inconceivable or abstract idea, whereas war is not only accepted as real but inevitable.
Under the reign of an Amazon empire, peace is a privilege not all can afford. We must look at who is allowed the opportunity and luxury to spend their money and time in this way. Does their expenditure ever actualise into an acceptance of past and future pain, conflict, consider fairness or uphold ethical decision-making?
In a capitalist white supremacist patriarchal society, hell bent on consumption to the brink of environmental devastation beyond the point of repair, where is peace located?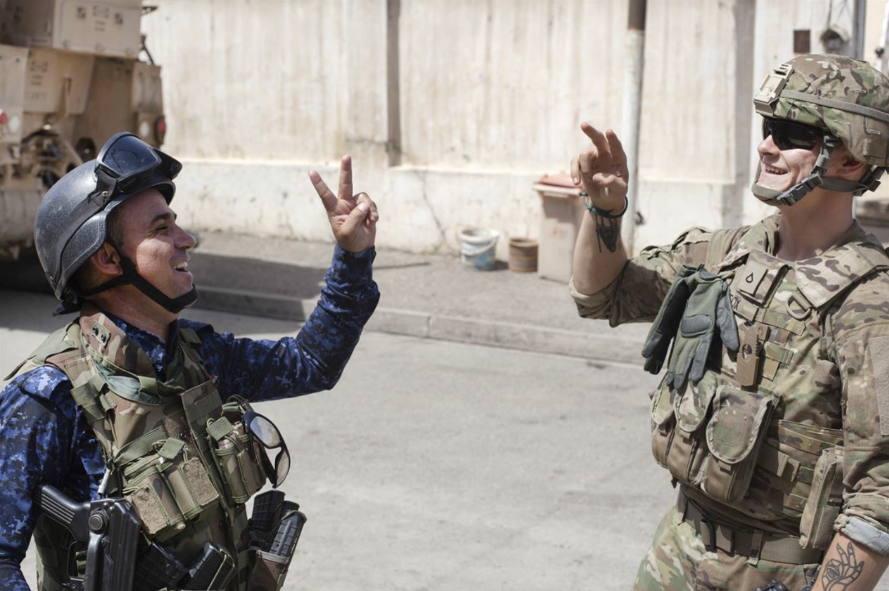 An Iraqi Federal Police officer and a U.S. Soldier give each other the peace sign during a patrol in Mosul, Iraq, 4th/July/2017.
A presence perpetually justified as there to "keep the peace", police are frequently at war with the people, there is no peace here. Recently and currently the Victorian police demonstrated a violent, egomaniacal and deeply insensitive COVID-related response towards people inhabiting Kensington/ Flemington public housing towers. How do we understand peace in relation to illness/sickness? Peace is a pandemic free society, peace is safety. In the name of peace and safety the police repeatedly act with extreme violence against mostly Black and Brown, poor and marginalised bodies. We have seen the grave potential police have to re- traumatise these families and individuals, mimicking conditions of war and persecution already fled. Globally we cannot turn our heads without observing another example of peaceful protests, calling for an end to racialised police bias, senseless deaths in custody or death at the hands of police publicly, met with extreme violence.
Police and government defence organisations know no other option in how to address violence. We are spoon fed that it is only war that could restore order and therefore war is repeatedly valorised. For instance, virtues such as hope, courage and heroism are upheld by the necessity of war not of peace. It is easy to conflate maintaining peace with maintaining hegemony and governmental regulation. Dangerously, it is in times of war, unrest and panic that harsher control tactics slip in to become a part of society's norm. The increase of civilian surveillance also questions the possibility of peace, the use of drones by police as well as the general public – one hovered over my backyard the other week – suggests we cannot bear to even allow one another peace. Or is it that under such scrutiny, our privacy boundaries have become so blurred.
I argue for the impossibility of peace while there is an enforcement of dispossession and the disenfranchisement as well as lack of freedom for First Nations people, refugees and minorities.

For many, there is no justice, so what can be made of peace and its fraught relationship to it?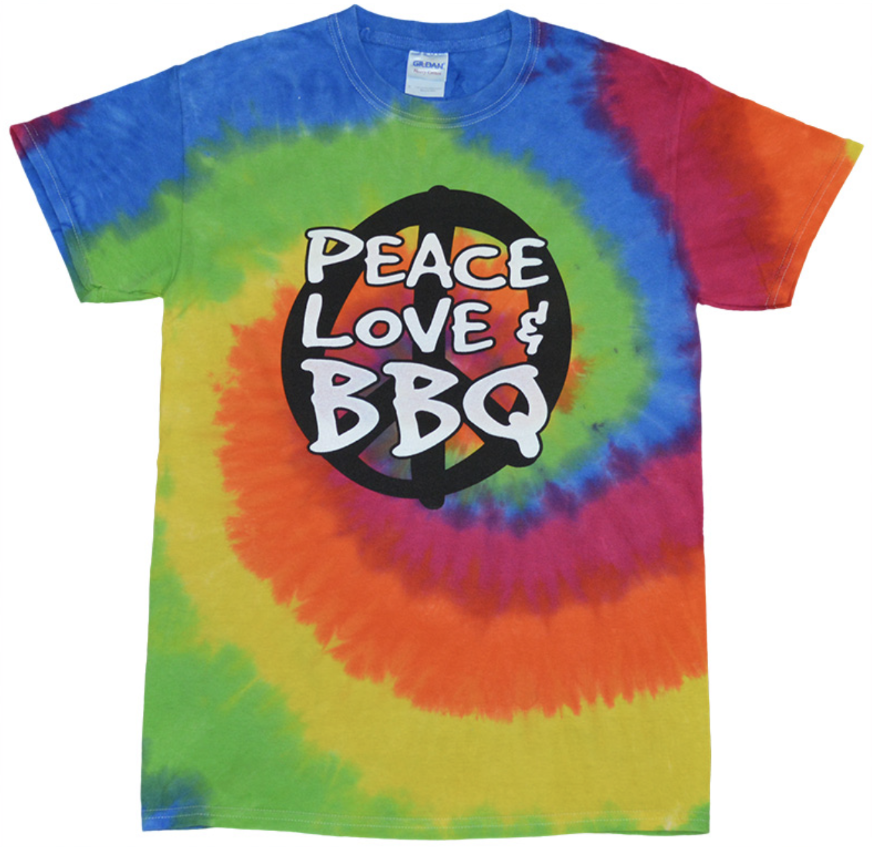 'Peace, love & BBQ' tie dye t-shirt, available for purchase at penguineds.com for $18.50.
Regarding peace in so-called australia, we must acknowledge the cultural-political widespread besottedness with the facade that we live in a peaceful country. An ignorant mantra repeated each generation since invasion, echoed by politicians and patriots. This is often said, with no nuance or self-reflection, in comparison to overtly ravaged countries of conflict. Where can we place this blatant ignorance in the face of ongoing genocide, removal of children, Aboriginal deaths in custody, migration policies, treatment of refugees and so on?
To proudly wear a t-shirt emblazoned with peace while maintaining white australian ideals of living a peaceful life, flipping snags on the barbie in the lucky country, what must we recklessly abandon? With a violent, unrelenting force, the white-settler persists in occupying stolen land, extracting from the land all that sustains it, therefore destroying the potential for peace. I am interested in what must be abandoned in order to find 'peace' and argue that there will be no chance for peace until there is First Nations sovereignty, for example. After centuries of climate change, initiated by the impact of colonialism, petro-capitalism, unsustainable global fossil-fuel economies lead by greedy magnates, there is no peace for the melting arctic permafrost.
If there is to be a move towards environmental peace, decolonial strategies must address the current ecologies of politics and challenge the corrupting effect of corporate money, media-bias and violent over reach of government forces
.
We are told that there is still time to avoid catastrophic global warming, but not within the parameters of human-centered white exceptionalism and capitalism as they currently stand.
Peace exists for who? Certainly, it seems that peace discriminates.
Isabella Hone-Saunders is currently practicing as a curator, arts worker and artist in Narrm (so-called melbourne), on the unceded lands and water ways of the Boon Wurrung and Woi Wurrung (Wurundjeri) people of the Kulin nation.
Her curatorial practice is concerned with accessibility, representation and shared social responsibility, while examining with criticality, the inclusivity of public art spaces. Broadly, she aims to implement methodologies which work towards an ethical and activist informed practice.